Rising Star: Sahil Siddiqui, Group Head, Creative Strategy, WATConsult
Trained to be an engineer, Siddiqui has made a mark in a completely different field — advertising. He enjoys writing, drawing and sketching and has a sense of humour which makes him a good 'boss' to work with
Archit Ambekar | Mumbai | December 20, 2016
An engineer by education, Sahil Siddiqui is one of those lost kids who found solace in advertising. And at 29, he is now Group Head, Creative Strategy, WATConsult. His friends always used to tell him, 'what are you doing in engineering?' Back then, he never took them seriously.
In 2009, Siddiqui started a magazine called 'Bigfish' with his college friends and used to do a lot of creative work for it. "I was always drawing on the last page and my friends were looking at what's happening in front of them," he says.
Siddiqui recalls that day when he went for an interview at WATConsult. Rajiv Dingra (Founder and CEO at WATConsult) hired him in five minutes. He joined as a content writer but ended up joining as a social media executive in November 2010.
Siddiqui had vowed that in three months he would go back to being an engineer. "The three months haven't ended yet," he laughs. The last six years have been a fabulous journey for him.
After his appointment, Siddiqui's first account was Monsterindia.com. It was his first client after the recession. The dot com bubble was still around and everyone in India was looking for jobs. He worked on the account as a social media executive. Clients came and went and after six months, he was heading content for a while. For two years now, Siddiqui has held the current position and heads a team of 17.
"I have worked on brands like Tata Tea, Bajaj Allianz, Nikon and Mother Dairy to name a few. My favourite work is Tata Tea's 'Jaago re' campaign. I learnt a lot from the campaign. It was one of my biggest works. The work for Bajaj Allianz too has been an award-winning piece for me," he said.
Siddiqui said he would have loved to work on Modi's pre-election and Coca-Cola's 'Open Happiness' campaigns. "I liked the story-telling of the Coca-Cola campaign. It said, don't have a 'Coke' alone — have it with friends, which in some way fulfilled the brand's sales targets."
Asked about the hardships he faced, he said he's never had faced any at work and that it was always his family and friends who have had to suffer.
Siddiqui loves writing, drawing, sketching and is a good orator. He likes to bring humour in his communication and believes that's what makes him stand apart.
An ideal day for Siddiqui begins at 11am and goes on till midnight. "You know how creative guys work, don't you?" he says, humorously. He likes socialising during the weekends, although he does have to work on those days at times.
"I take a lot of inspiration from Rajiv for giving me first-hand insight into what goes into being successful. AdMen who became authors — Salman Rushdie and Joseph Heller — are also my inspirations. The list doesn't end without thought leaders like Brian Solis and Seth Godin," said Siddiqui.
Siddiqui's work:
The TVF-Bajaj anthem video: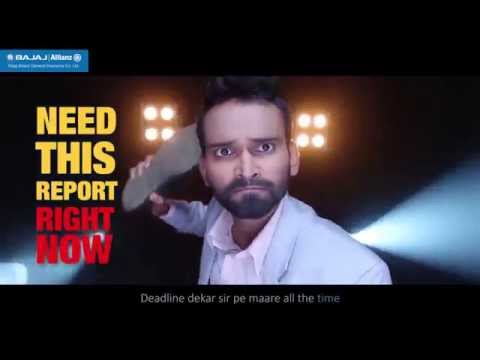 Nikon Cheat-sheet