After Hours: Rajeev Raja, the flutist
Very few can claim to have turned their passion into their career but Rajeev Raja, Founder, Brand Musiq, has achieved the impossible and fused two of his passions to give birth to something unique and new
Roshni Nair | Mumbai | December15, 2016
(This is a weekly series on advertising professionals who have enriched their own lives and their audiences as performing musicians, artists, painters, actors, singers, mime artists. We will bring a new adman-performer every Thursday.)
If fate hadn't played a life changing, albeit a little cruel card, Rajeev Raja probably would have found himself on a cricket ground batting for glory.
A mother who is a trained Bharatnatyam dancer and a father who belongs to a royal family in Kerala ensured that Raja's childhood memories are steeped in conversations surrounding Kathakali, Bharatnatyam, theatre, music and various other forms of art.
"I used to listen to a lot of music. Carnatic music, a lot of early Malayalam songs, etc. But I never knew that I was musically talented because neither my mother nor my father wasa musician in that sense or even anybody in our immediate family. I was more into cricket. We were a cricketing family. My brother played for the university and I played for my school. When in college, I was a very promising opening batsman."
But in Raja's own words what was supposed to be a disaster turned out to be very providential for him. A very serious back problem at the age of 17 meant that his cricketing career had to take a backseat.
"I had to stop cricket for two years and I did not know what to do with all the spare time. All my time was about cricket and suddenly I had a lot of free time in hand. There was a mouth organ lying around at home. I dabbled with it and I could play some melodies. Not having much to do, I started carrying the mouth organ with me to college. One day this young guy called Roshan Samtani came to me and said, "I heard you play the mouth harp man. Let's jam."
Rajeev Raja and Subhash Kamath performing at BestMediaInfo's THINK BIG evening at Hard Rock Cafe, Worli: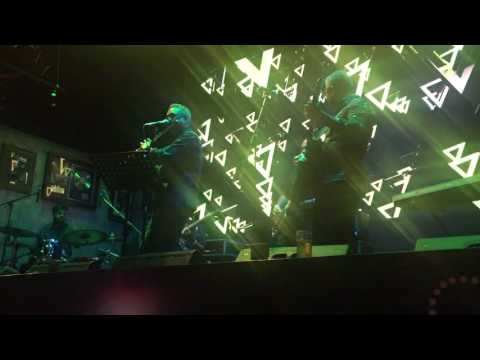 Samtani, today, teaches jazz, guitar performances and ethnomusicology in Madrid, Spain where he is currently based. Raja and Samtani became inseparable. Raja credits Samtani for introducing him to blues and jazz. Samtani is also the one who introduced him to the flute.
"One day Roshan told me that the mouth organ was limiting and that I should try the flute. He actually had a two rupees bamboo flute and he gave it to me. That was the moment my life changed. The minute I had that flute in my hand I could just play."
At this point you know Samtani was to Raja, what Krishna was to Arjun. Though this was no Mahabharat, Samtani nudged Raja further to what his calling would be when he introduced him to the concert flute.
"Roshan was the one who told me that bansuri is more for Indian music but if you are playing jazz and the blues then you need the western flute. I had never even heard of the western flute or as it is called the concert flute. As luck would have it, a friend's brother was going to Singapore and I just asked if he could get me a concert flute and before I knew it when he came back I had a flute. I went through the learning curve where I learned western notations and soon enough I and Roshan were playing. We actually introduced jazz on campus in that era. For the next three years, we won at all the cultural festivals. We participated in colleges across the country."
The self-taught musician was in a quandary once he finished college and, as he likes to put it, became aware of the "immediate need to earn money and make a living."
"I had seen a lot of senior musicians and seen a lot of disappointment in their eyes. They were not playing the kind of music they wanted to, they were forced to do what the management wanted."
Being the president of the cultural society in college meant that Raja was involved in everything from music to theatre and was known to be the creative one. Even before he had finished college he was approached by his history professor to work for his friend's ad agency. He worked for the agency for a year. Dissatisfied with the work, Raja pursued a course in mass communication. As part of the course, he got the chance to work as a trainee for Clarion.
"I joined a small agency called Parade Advertising after my traineeship with Clarion. I worked in client servicing at Parade and I was a complete disaster. While I was there I got a call from Clarion and they asked me to join. The first day I wrote a copy and knew that this was it. I realised that if there was any job other than music for me then this was it."
Raja's advertising career really took off from there. After working with Clarion for two years he joined Mudra. He met A G Krishnamurthy, the man who had founded Mudra Communications Limited, in Ahmedabad and was placed in Mumbai. Like everything else Raja believes that ending up in Mumbai too was providence.
"Mumbai changed my life completely, be it musically or even advertising wise. I created my first big campaign while at Mudra and I was at Mudra when Fazal Qureshi, Ustad Alla Rakha's son, called me and said 'Let's jam'. I met Fazal at a garage in Malabar Hill. I also met Taufiq Qureshi, Shankar Mahadevan and Salim Merchant there. I played in their band Surya for two years while also working full-time."
Quoting Mark Twain, Raja recounts the time he had the epiphany that if he wasn't investing his time in music then he was wasting it."Mark Twain said this very beautiful line: The two most important days in your life are the day you were born, and the day you find out why. By the time I reached the post of National Creative Director, DDB Mudra, I realised my life is all about music and everything related and revolving around music. I finally understood that anything that did not involve the thinking and execution of music should not be a part of my life."
Once, while in conversation with his late colleague and friend J Mani, Raja shared his thoughts about moving on from advertising. But the questions what next and how to monetise his passion still loomed large. That is how the concept of BrandMusiq evolved.
"BrandMusiq is about bringing the two worlds of brands and music together and looking at creating identities for brands using sound and music. It is a concept that hasn't been explored much and even in the West it is at its early stages. We also feel that especially with the whole digital explosion, brands need to have a much more strategic view of music and sound rather than just tactical. So, it is not just about jingles that makes you happy. It is about being able to create a sound which reflects the emotional essence of your brand. We coined the term 'MOGO' a short form for musical logo. So, we create MOGOs, sonic palettes, we decide what kind of instruments should the brand own and we create adaptations across what we call consumer ear-points."
One can argue that with BrandMusiq, Raja is living his dream. Today he is involved everyday in creating music for brands. He also plays with a lot of bands including his own.
The best thing about quitting advertising he believes is that he got the time to turn a lot of his musical ideas into reality by making his maiden album Rajeev Raja Combine.
Although jazz is the genre that captures his attention musically and intellectually Raja admitted that the three bands he plays for now have three different styles.
"The three bands I play with have three different genres and they really reflect all my influences. Rajeev Raja Combine is more into jazz, Wanted Yesterday is classic rock and the blues and Junckd is in the jazz funk space."
When asked about the moment that stands out for him in his musical journey Raja said, "I was practising with the band Surya. I was sitting on the floor and the door was behind me. We were playing and there was a piece I was finding very difficult to play. After two or three rehearsals I had just reached a place where I was feeling happy with what I was playing. While playing suddenly I felt this spiritual feeling behind me, it was like some electricity going through me, it was like Nirvana. I turned around and I saw Ustad Alla Rakha standing behind me and he had just placed his hand on my head."
So what does music really mean to him?
"Music to me is a combination of the sublime and joy. It really is a connection to spirituality and at the same time it is a connection to human beings. It has got this intangibility of spiritualism and a higher feeling when you are playing and at same time you know you need to connect to an audience, so there is the reality of your expression and skill."