After Hours: Vivek Srivastava and his sexy saxophone
Unable to pursue his yearning to learn the guitar while in college, Vivek Srivastava, Joint Managing Director, Innocean Worldwide, picked up the instrument a lot later in life only to fall in love with another beauty. Here he talks about his newest prized acquisition, his rivalry with his sons and why he hasn't jammed with his wife yet!
Roshni Nair | Mumbai | March 2, 2017
(This is a weekly series on advertising professionals who have enriched their own lives and their audiences as performing musicians, artists, painters, actors, singers, mime artists and much more. We will bring a new adman-performer every Thursday.)
Always fond of listening to music, once in college Vivek Srivastava decided to try his hand at learning the guitar.
"During my days in Allahabad, I and my friend set out on a quest to learn the guitar. We went and saw the guitars we wanted to buy and also met a teacher. After our little scouting, I went home and told my mom and dad that I would like to learn the guitar, that I and my friend had found a place where we could buy a second-hand guitar for Rs 200 and that we had also found a teacher. After I spoke, there was utter silence in the room and my dad just walked away. When he came back he told me he didn't fancy the idea of me playing in a restaurant when I grew up."
The son of a judge, like most other households in India, has to be academic-centric. Building a nice corporate career or even a government job was the goal. His father's reluctance to let him learn the guitar put a damper on Srivastava's aspirations of learning music then.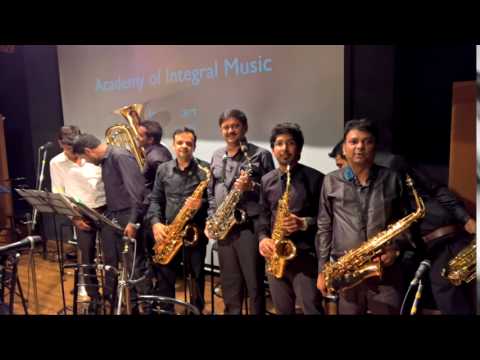 "But I was involved in organising college events and very often we would organise inter-college band competitions and I used to listen to a lot of music too. Beatles, Boney M, ABBA were the bands that were pretty popular back then. Pink Floyd was just about happening in our lives and people were discovering psychedelic rock. So I was always in touch with music, just because I wasn't learning music didn't mean that I wasn't in touch with music."
Things moved on and Srivastava entered advertising.
"Music is something that is very intrinsic to the business. Whether it is films, radio jingles or the documentaries that are made by agencies for clients, music is an integral part of all creative output. But initially in my career I never had the time to pursue music."
Life had its twists and turns. Srivastava got married, had kids and things went on. But his two boys started taking an interest in music from an early age and started learning the guitar when they were rather young.
"When they started learning the guitar, I started to think that maybe I too should try my hand at learning it. We had an extra guitar at home because between my two sons, they had three guitars. So, I would pick up the elementary books that my sons had used and start playing some basic chords."
But Srivastava was about to meet his greatest critics and also the two people who would always encourage him to do better.
"When you are under the eagle eyes of two very curious boys, it becomes very difficult because they would find fault with everything that I played. I realised that this couldn't go on for long."
It was also around the same time that he took a liking to wind instrument and grew fond of Blues.
"In the meanwhile I had developed a great fondness for Blues. I would listen to a lot of wind instruments and saxophone because of its shape, form, audio quality and the range of sounds it produced, held a special fascination for me. It definitely seemed a lot more romantic and sexy at the same time."
When a friend of Srivastava's joined the Delhi School of Music to learn the saxophone and could play "Happy Birthday" and some nursery rhymes within six months, it gave Srivastava some hope that he too could learn the instrument.
"I went around looking for an instrument but then it struck me that instruments will come by but it was more important to get a teacher. For me it was a little difficult to try and visit school two days in a week and timings had to be flexible to suit my office timings and the pressures that come with the job. So I went online to look for a private tutor."
The search wasn't easy. The first guy that Srivastava visited used to play in a wedding band and could only play songs like "Didi tera devar deewana". The next place that he went, he was made to wait for an hour and a half and nobody turned up.
"Just as I was about to give up on my search, I decided to ring the fourth number that was listed. It was a gentleman called Suresh Babu. He used to be in the army. He was a junior officer in the artillery and he had a great interest in music so his senior pushed him into the army band. He had trained not only in India but in abroad as well and he was an expert in wood-wind instruments. That is how my journey started."
It has been five years now since Srivastava started taking lessons from Babu. He agrees that the journey was not always smooth sailing and there were many challenges that he had to overcome.
"The first challenge that I had to overcome was how to read the notations. Then I had to learn how to read the notations and play at the same time. Initially I had to practise for an hour and half every day and there were two days of classes on the weekends. Now the lessons happen once a week. The basic idea is to have a repertoire of 20-30 songs that I can play at any point in time."
Srivastava has tried his hand at playing socially. He can play Hava Nagila, which is an Israeli folk song, Stairway to Heaven by Led Zeppelin and some Beatles numbers. But he intends to increase his repertoire to include more complicated compositions like Take Five.
While Srivastava was only the second student to reach out to Babu for lessons, today Babu has set up his own school and had put up a Brass Ensemble just last year of which Srivastava was a part.
"We had our first concert in November last year. I was also privileged to be a part of that entire group. There was an audience of about 150 odd people and there were 18 of us on the stage. The entire performance lasted for about 45 minutes and we played some 13-14 odd pieces."
Srivastava bought his first saxophone in 2011. He also managed to sell it off and invest in a brand new saxophone recently. The only problem he believes with an instrument like saxophone is that it is rather loud.
"You can pick up an acoustic guitar and start practising in the night as well but if you start playing a saxophone at 11 in the night, your neighbours will probably gather and start throwing stones," laughs Srivastava.
Srivastava also inspired his wife to take up piano lessons.
"Seeing me play also encouraged my wife to take up the piano. She has been learning for a year and two months now. She did not want to be the only person in the family without any musical talent or skills. So she has been playing for a while now and also intends to take some grade exams conducted by Trinity college of Music in India."
Considering everyone in their house knows how to play an instrument, do jamming sessions often take place?
"Not with my wife yet because I don't think she trusts my skills and I trust her skills that much yet but with my boys yes. We often jam."
Who are his favourite musicians?
"The names that come to my mind are quite a mixed bag. They would be Kenny Rogers, Joan Baez, Eric Clapton, Deep Purple, Doors, BB King, Pink Floyd, Beatles, Glen Campbell, David Sanborn, Miles Davis, Dave Brubeck, etc., to name some. In fact I have gone a bit retro. I have invested in a good record player and am building a collection of vinyls of my favourites. The sound is rich and amazing, especially the blues stuff. In Hindi it's definitely Kishore Kumar and old hits of Mohammad Rafi. Rafi's songs for Shammi Kapoor lend themselves to the sound of saxophone a bit naturally."
Srivastava believes that learning to play the saxophone has made him more appreciative of the effort that people put into their work.
"This has definitely made me appreciate and value the effort and commitment that people show towards their work. Also, once you technically learn music you are able to appreciate compositions much better. The finer nuances of music definitely come much easily to you. It has also reopened my mind to learning. So now when you are confronted with somebody who can add a bit to your knowledge you are more than willing to accept it. So as a recipient I have become more co-operative. It has helped me to become a better learner again."
Srivastava believes that every time you crack a song is a defining moment but he considers the Brass Ensemble the highest point of his musical journey. So, was there any stage fright or performance anxiety?
"My basic fright was that the sheet of music would fly away. I was so terrified of the prospect that I asked the organisers to turn off the AC. When they refused, I made a guy who was working there get his clothesline clips to keep the pages in place. Also we used to do rigorous practice for this but I and a few other guys missed a few practice sessions and before the concert began we were informed that one more song was added to the performance. Although I could read the notations, I was really scared that I would mess up and that song was the National Anthem. I played only the first four lines because they were simple and then I didn't want to risk it. There were 18 of us on the stage so thankfully no one noticed."
So, what does music really mean to him?
"For me it is a release. It eases off all the tension and transports me to a different world. For that hour and a half I forget about everything else. I don't worry about work or the golf bet that I lost that morning or all the things that I didn't do on the home front. It is just me and the music. It is a great meditative phase for me as well."