Amazon Prime Video's India Ka Naya Primetime is a cute conversation between a couple
Leo Burnett's first campaign for the brand brings out the features of the over-the-top player. It offers consumers exclusive content with easy-to-use features, enabling them to take control of what, when and where they want to watch
BestMediaInfo Bureau | Mumbai | February 28, 2017
Amazon intends to make an impact on content consumption in India with the launch of its Prime Video service. To take this thought forward, the brand brought in Leo Burnett India to conceptualise its new integrated campaign – 'India Ka Naya Primetime'.
Speaking about the new campaign, Ravi Desai, Director Mass and Brand Marketing, Amazon India, said, "Amazon Prime Video offers consumers the ability to enjoy the latest and exclusive content, with easy-to-use features, enabling them to take control of what they want to watch, when they want to watch and where they want to watch. We believe this campaign will work towards building awareness of this new Prime benefit, as well as bringing new consumers to Prime Video, as every content lover would be attracted to this new world of entertainment."
When it comes to content watching, India has evolved with content becoming its new social currency. Expectations are that content should not be limited by where consumers are, the device they are using, availability, or when they are watching. Having said that, while expectations from content have changed, we still end up consuming it the way we used to — by appointment viewing.
Speaking about the integrated campaign, Rajdeepak Das, Chief Creative Officer, Leo Burnett, South Asia, said, "We are elated to be working on one of the country's biggest brands, and on one of the most exciting categories there is today. Through the young couple, we wanted to give consumers a glimpse of how life can be, without being forced to watch their favourite movies and shows, according to others' choices. Through its slice-of-life execution, we wanted viewers to know it is easy to bid the shackles of traditional 'primetime' goodbye."
Amazon Prime Video consumers are no longer restricted by a time slot, programming choice, or by who has control over the TV remote. They can watch latest and exclusive content, anytime they want, anywhere they want, making anytime.
To carry this thought forward, the films feature a young couple, Rohan and Roshni, who are defined by their love for content. The characters individually have a distinct personality, and together, as a couple, give us a glimpse into their very interesting everyday lives, with entertainment enabled by Amazon Prime Video. The insight for the campaign stems from everyday fun, tongue-in-cheek moments. These moments allow for narratives created around the couple's content watching behaviour, making it relatable for anyone who loves to watch movies and shows.
In the first film, Roshni is shown sitting on the sofa and watching something on a laptop when Rohan enters the screen. They both decide to watch a movie together and Rohan ends up speaking a few dialogues of the movie. Roshni asks if he has already seen the movie. Rohan answers that he has watched it on Amazon Prime Video and now doubts if his wife would be angry as he watched the movie without her. To his surprise, the wife told him that even she has watched it but clearly she is a better actor as until the end he could not guess that she was lying.
The second ad film features the same couple. The film opens with the couple sitting on the sofa. Rohan asks for the Amazon Prime Video password, which Roshni has changed because he had earlier not changed an electric bulb in the house. He goes away saying that he would watch the video somewhere else. With no success in hand, he comes back with a drooping face and agrees to change the bulb as the video which he wanted to watch is only available on Amazon Prime Video and he couldn't find it anywhere else.
This is an integrated campaign across India with presence on TV, digital, OOH and other relevant consumer touchpoints.
The TVCs: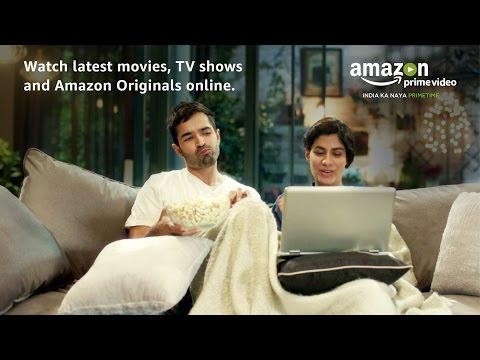 Credits:
Chief Executive Officer, Publicis Communications India: Saurabh Varma
Chief Creative Officer, Leo Burnett, South Asia: Rajdeepak Das
Chief Strategy Officer, Leo Burnett, South Asia: Dheeraj Sinha
Business head: Oindrila Roy
Executive Creative Directors: Arjuna Gaur, Pravin Sutar
Creative Team: Vijay Kumbhar, Swagata Banerjee, Maruthi Shivakumar
Account Planner: Aditi Jain
Account management: Hemal Thakkar, Gaurav Bhagat
Producer: Poonam Wahi
Production House: Chrome Pictures
Film Director: Amit Sharma