How bite-sized content on web series is attracting the youth
With over a million views for popular shows like TVF's Permanent Roommates, Arre's AISHA – My Virtual Girlfriend and quirky stuff on platforms like AIB, the youth are definitely finding ways to consume content they like
Archit Ambekar | Mumbai | August 30, 2016
For nearly half a decade now, youngsters are scouting for ways to find content relevant to them that can be viewed on a private screen. Channels such as MTV and Channel V did show youth-centric content, but with limitations and advertisements the youth did not like.
That is when players like The Viral Fever (TVF), All India Bakchod (AIB), Arre and many more realised that a large number of youth (mainly 18-35 years) are looking for content not available on television or on other platforms.
Fiction stories have seen a shift from books to movies to television shows and now to web series. A lot of compelling stories in shorter formats are shown on such platforms. Arre's 'AISHA – My Virtual Girlfriend', TVF's Permanent Roommates season one and two are some of the popular web shows that have garnered over millions of impressions. These shows have a second season and third season in the pipeline, indicating the kind of traction they are getting.
With average views of over a million for shows such as TVF's Permanent Roommates, Arre's AISHA – My Virtual Girlfriend and quirky content on platforms like AIB, the youth are definitely finding ways to consume stuff they like.
Brands have also started partnering with such shows. The first season of TVF's Permanent Roommates was sponsored by Tata Nano and season two by Ola. Myntra, Gillette, Tata Tiago and Carlton are some of the brands that have sponsored a few web series.
"Small bite-sized content was not available for the youth and that is what players like AIB, TVF, Arre and Fremantle media among others gave the target audience. While television programming is very different, nobody has been able to crack the way it has been able to change consumer behaviour," says Priya Jayaraman, Co-founder and Business Director, Propaganda.
At the recent launch of TVF's Tripling with Tata Motors' Tiago and Maxus Content, Tarun Tripathi, Head, Solution and Awareness, TVF, tells us how Tiago came on board. He said, "Tiago is one of the trendiest cars from the house of Tatas, with a lot of features that will attract the youth at a cheap price. We thought it is a good idea to associate with them and integrate the car subtly as a part of our show."
Having associated with them earlier, it was easy for the brand to bring in the Indian automaker on board. While that remains, Rohan Joshi from AIB shared some insights on the web series. Speaking about the positives, Joshi said, "It is free from the pressures of conventional network programming that is, large demographic, sanitised content, no room for experimentation. None of those limitations apply to web series."
On tackling the piracy issue, Joshi said, "Platforms like YouTube have great content ID systems that help you flag and report duplicate uploads, but there is no comprehensive anti-piracy system in play on the internet overall. It's a tricky and slippery slope."
About the scope for producers of web series to get featured on TV in future, Joshi said it depended on the producer and the channel. "But at least networks now know they have alternative sources of content and alternative producers to go to, aside from established TV production houses," he said.
Joshi said it is hard to ascertain if the popularity is ripe enough for producers to stake it on television. He says it would depend on a case by case basis.
Having content platforms like Blush, Put Chutney, Awesome Sauce and Being Indian among others, Sameer Pitalwalla, CEO, Culture Machine, says there is a wider reach with web series. The younger audience prefer shorter formats and the web series offers that.
Pitalwalla said that typically fast-moving-consumer-goods (FMCG) brands, banking, financial services and insurance (BFSI), automobile and telecom providers are associating with such shows.
Asked about the typical viewership for shows on Blush, Pitalwalla said there are about 10 to 15 million views for their targeted audience. While TVF and AIB have an average of a million views per video, their content has successfully reached the right kind of audience.
A spokesperson of Ola said a large section of its target audience is young tech-savvy Indians who are always online. These digital natives consume and share content with their peers every minute. This makes the online and social media extremely important for any brand today, more so for a young and dynamic brand like Ola.
The spokesperson added, "With TVF's 'Permanent Roommates', we have been able to engage with our audience with the help of original and off-beat content where Ola has been an integral part of the narrative."
On its association with TVF, an Ola spokesperson said, "TVF is one the biggest players in the original web series/online video content genre in India. The team is extremely talented and it has been fun collaborating with them. Their approach to storytelling, the subtle sarcasm and humour they bring out, has been very well received. For us, it has been a great way to be in constant touch with our target audience and we believe it has been a successful association. TVF has been able to successfully give the desired mass reach through a digital channel and the right, cultural brand fit to Ola that was expected out of them and they have exceeded our expectations in every aspect."
Asked if this association was an indication that television doesn't give enough traction, the Ola spokesperson said, "While television commercials help drive awareness among a wide range of consumers, it is usually targeted at selling a product or service. Television is still able to provide high impact and mass reach over a relatively short period of time, but given consumer viewing habits are shifting to digital, more engaging advertising options in the digital content space will certainly precipitate shift of advertising dollars to mediums like digital content."
Recently, Carlton, the premium luggage brand from the house of VIP Industries, launched its digital property 'LegendSpeak.' It aims to provide a sneak peek into the journey, minds and lives of the stars of the Indian start-up community. The property has been conceptualised and created exclusively by Carlton, the online entrepreneur networking portal The Venturator and will be hosted at Tata Starbucks.
This is another innovative thinking of how bite-sized content will be provided and distributed to the youth. Sudip Ghose, Vice-President, Marketing, VIP Industries, said, "With India's start-up community continuing to flourish and thrive, we wanted to create a platform where emerging entrepreneurs are able to seek knowledge and learn from experts in the industry. This digital property captures the essence of how these individuals worked towards shaping their ideas and built it into a successful business. Carlton is positioned as a brand meant for The New Face of Business and with LegendSpeak our aim is to further strengthen our communication."
Manmeet Vohra, Director, Marketing and Category, Tata Starbucks, said, "We are pleased to extend our association with The Venturator for the second season of The Velocity Series. Every day around the world, millions of people gather at Starbucks, and it's never been just about the coffee. The distinct 'third place', between work and home, and the opportunities to connect with others over handcrafted beverages makes it the perfect ambience to cultivate ideas and to form new networks and collaborations."
With more brands partnering with popular web series shows, youth are of the major drivers of bite-sized quirky and relevant content. Brands are getting smarter while integrating their product in the right manner.
"While there is no proper revenue model for such content creators, brands seem to be burning their money in this marketing activity. At the end of the day, entertainment has to have a monetisation model, which television has been able to beautifully do it," concludes Jayaraman.
TVF's Tripling with Tiago Trailer:
TVF's Permanent Roommates season two trailer:
Season Finale of Arre's AISHA – My Virtual Girlfriend: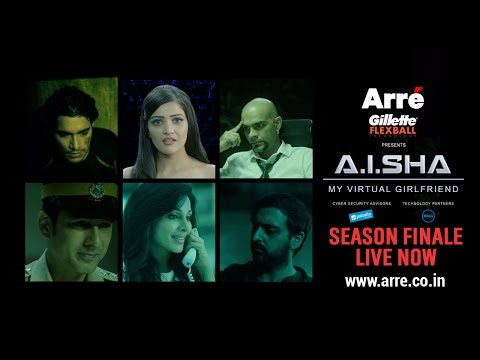 AIB – The Day India Resigned:
Carlton's LegendSpeak: